Discographies
Goody Records Discography
Accurate information on this French label is difficult to ascertain. This distinctively packaged limited series of albums was supervised by Jean Luc Young, one of the co-owners of the BYG/Actuel label, and Claude Delcloo, the French drummer appearing on many Actuel recordings, including one as a leader. Some reports have Goody as the BYG/Actuel discount label. It seems that it operated in similar fashion to America Records, i.e. acquiring masters illegally and pressing inferior copies without payment to the artists. The catalogue numbers are listed as GY 3000_ on the record backs and as GY 300_ on the record spines. It is unclear as to the reason.
GY 30001 - 30005 are all reissues, all but two from the Chicago Delmark label. GY 30006 seems to be the original issue, not available elsewhere. No other jazz releases seem to have been made after 1970. Two other series, Electric Blues — Chicago Style and Super Black Blues, also reissued illegally from Delmark, are listed at the end of this document.

Clifford Thornton — Freedom and Unity
GY 30001
recorded July 22, 1967: Sound City Studios, New York, NY
Avent, Edward (corn #1, #8), Avent, Harold (drm), Berger, Karl (vib), Crabb, Tyrone (ab #1, #8), Garrison, Jimmy (ab #7), King, Sonny (as), Moore, Don (ab), McPhee, Joe (tr #7), Thornton, Clifford (trom)

1) Free Huey — HAvent 13:10
2) 15th Floor — SKing 8:51
3) Miss Oula — SKing 4:43
4) Kevin (The Theme) — CThornton :21
5) Exosphere — CThornton 10:09
6) Uhuru — SKing 8:28
7) O' "C.T." — JMcPhee 4:30
8) The Wake — HAvent 14:13

Reissue of Third World 9636 (Thornton's own label)
Reissued on CD in 2001 with extra tracks on Atavistic's Unheard Music Series UMS225

Sun Ra — Sun Song
GY 30002
recorded July 12, 1956: Universal Studios, Chicago, IL
Barr, Robert (drm bells), Evans, Richard (ab), Gilmore, John (ts woodblocks), Green, Wilburn (eb tamb),
Herndon, Jim (tymp timb), Hoyle, Art (tr bells), Patrick, Pat (bs bells), Priester, Julian (trom chimes), Scales, James (as),
Sun Ra (ap org), Young, Dave (tr)

1) Brainville — Ra 4:29
2) Call for all Demons — Ra 4:30
3) Transition — Ra 3:40
4) Possession — Revel 5:00
5) Street Named Hell — Ra 3:55
6) Lullaby for Realville — Evans 4:40
7) Future — Ra 3:15
8) New Horizons — Ra 3:05
9) Fall off the Log — Ra 4:00
10) Sun Song — Ra 3:40

Originally titled Jazz by Sun Ra
Reissue of Transition TRLP J-10 (1957), Delmark DL-411 (1967). Also available as Sonet SLP23 (Sweden).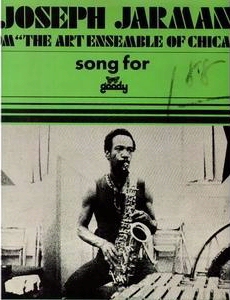 Joseph Jarman — Song For
GY 30003
recorded October 20 - December 16, 1966: Sound Studios, Inc., Chicago, IL
Anderson, Fred (ts #1-2), Barker, Thurman (drm), Brimfield, William (tr #1-2), Clark, Charles (ab), Gaddy, Cristopher (ap marim), Jarman, Joseph (as voc), McCall, Steve (drm #1-2)

1) Little Fox Run — JJarman 7:00
2) Non-cognitive Aspects of the City — JJarman 14:00
3) Adam's Rib — JJarman 5:52
4) Song For — JJarman 13:23

Reissue of Delmark DL-410 (1967)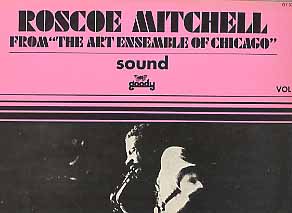 Roscoe Mitchell — Sound
GY 30004
recorded August 10-26, 1966: Sound Studios, Inc., Chicago, IL
Bowie, Lester (tr flug harm), Favors, Malachi (ab), Fielder, Alvin (perc), Lashley, Lester (trom cell), McIntyre, Maurice Kalaparusha (ts), Mitchell, Roscoe (as cl rec)

1) Ornette — RMitchell 5:22
2) The Little Suite — RMitchell 10:20
3) Sound — RMitchell 21:30

reissue of Delmark DL-408 (1966)

Rolf and Joachim Kόhn — The Mad Rockers
GY 30005
recorded 1968: Metronome Studios, Hamburg, Germany
Kriegel, Volker (eg), Kόhn, Joachim (ap org as), Kόhn, Rolf (cl), Lenz, Gόnter (ab), Martin, Stu (drm)

1) Night Time Girl — RKuhn 6:27
2) Misty Purple — RKuhn 5:15
3) Getting the Point — RKuhn 3:38
4) I'm a Jew — JKuhn 4:51
5) Flight to Jerusalem — RKuhn 3:24
6) Out of Traffic — RKuhn 4:35
7) Rocking Chair to the Moon — JKuhn 3:40
8) Going West — RKuhn 6:00

Reissue of Metronome MLP 15340


Selwyn Lissack — Facets of the Univers
GY 30006
recorded September 1969: London, England
Feza, Mongezi (tr), Freeman, Earl (ab), Lissack, Selwyn (drm), Miller, Harry (ab), Osborne, Mike (as),
Terroade, Kenneth (ts fl)

1) Facets of the Univers —(SLissack)
2) Friendship Next of Kin — (SLissack)

---
Electric Blues — Chicago Style.
Vol. 1 (GY 10001) is Junior Wells. Reissue of Delmark DS-612 or Delmark DS 628
Vol. 2 (GY 10002) is Luther Allison. Reissue of Delmark DS-625
Vol. 3 (GY 10003) is Sleepy John Estes. Reissue of Delmark DS-619
Vol. 4 (GY 10004) is Jimmy "Fast Fingers" Dawkins. Reissue of Delmark DS-623
Vol. 5 (GY 10005) is Sam Magic. Reissue of Delmark DD-615

Super Black Blues.
Vol. 1 (GY 10006) is Big Joe Williams. Reissue of Delmark DL-609
Vol. 2 (GY 10007) is Curtis Jones. Reissue of Delmark DS-605
Vol. 3 (GY 10008) is Sleepy John Estes. Reissue of Delmark DS-603, DS-608 or DS-613
Vol. 4 (GY 10009) is Arthur "Big Boy" Crudup. Reissue of Delmark DS-621
Vol. 5 (GY 10010) is Yank Rachel. Reissue of Delmark DS-606

This list is maintained by Andrey Henkin. Please send comments, corrections or additions to andrey@amscan.org.